Are you looking for the best Google Analytics Plugin for your WordPress site? Or confused about which WordPress Google Analytics plugin to go for?… Congratulations, you're in the right place.
Google Analytics helps you get insights about your posts, pages, user behavior and make the best decision to win the game.
You can easily learn about how your visitors are interacting with your posts and pages, what are your best and worst-performing posts, user information, time on page, bounce rate, and many more. We made detailed research and finalize the top 5 Google Analytics plugins for you. Google Analytics Dashboard Plugin by MonsterInsights won the battle so we also shared a detailed review on it for your convenience.
Let's get started with the importance of Google Analytics for your WordPress site.
Why Use Google Analytics and Why It's Important?
Google Analytics is a free web analytics service offered by Google that tracks all your site traffic and provides you with useful information about your site visitors.
Once it collects the data, it displays them to you in a graphical form and charts to help you better understand your users' and website's performance.
Google Analytics is-
Completely free
Reliable
Powerful
Customizable
And of course easy to use
And there's nothing better for your website data analysis than Google Analytics and Search Console.
Setting up Google Analytics is very simple and easy for even newbies. All you need to do is- just create a new property in your Google Analytics dashboard by filling up all the required details, grabbing your analytics tracking code, and pasting it inside your site's header section. Once you have done with that, you are ready to go.
Also, there are plugins to make your job even easier and that's what we're going to cover today.
5 Best Google Analytics Plugins for WordPress in 2021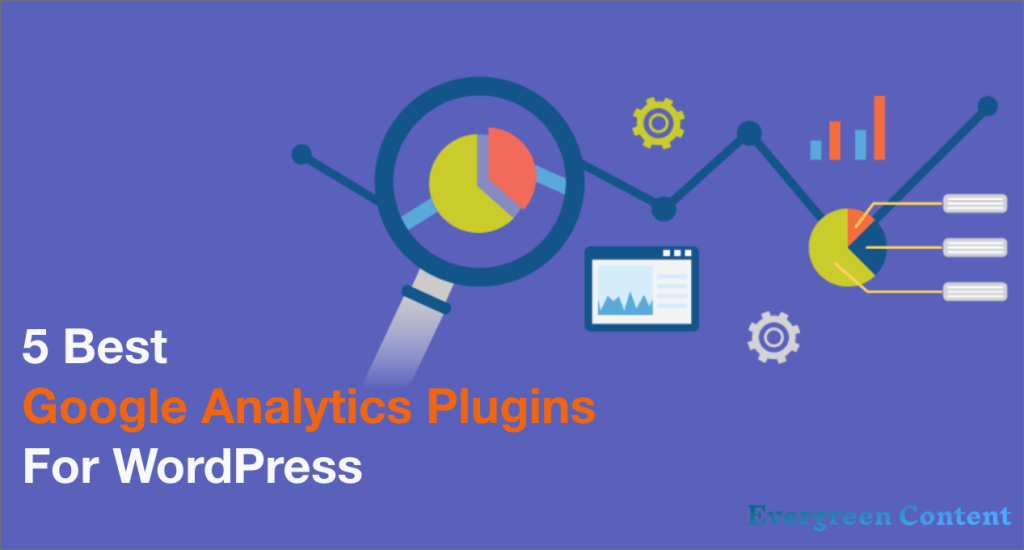 We conducted detailed research to finalize the list of the 5 best google analytics plugins for WordPress. Give a check to these plugins and decide which one to go for.
MonsterInsights
Site Kit by Google
GA Google Analytics
Analytify
Enhanced Ecommerce Google Analytics Plugin
Want to give a check now?
Here are the WordPress.org links for the free version of the Top 5 Google Analytics Plugins WP.
How We Selected The Top 5 Google Analytics Plugins
Firstly we set up a few metrics for our comparison on WordPress Google Analytics Plugins. These are like-
Easy installation and setup
Better user experience
Free features
Types of reports
Integration and customization
Plugin weight and code-base
Uptime and update frequency
Active installation
Expert recommendation
Premium features
There was a close competition among 3 plugins for a few points but finally, Google Analytics Dashboard Plugin by MonsterInsights won the battle. Especially for SMBs.
Google Analytics Dashboard Plugin by MonsterInsights is a popular and free website analytics plugin that you can use to check and collect your site's analytics data right from your WordPress dashboard.
This is officially known as Google Analytics Dashboard Plugin for WordPress by MonsterInsights. This plugin easily takes you through adding, customizing, and managing Google analytics. The plugin also brings Google site tracking services right to your WordPress dashboard hence making the process of tracking your site simpler and faster.
Google Analytics Dashboard Plugin by MonsterInsights: A-Z Close Review
Let's have a quick look at Monster Insights and its core feature from the below screenshot. This plugin offers real-time analytics, reports on user behaviour-eCommerce-SEO ranking, and GDPR friendly solution with over 100 data points, and more.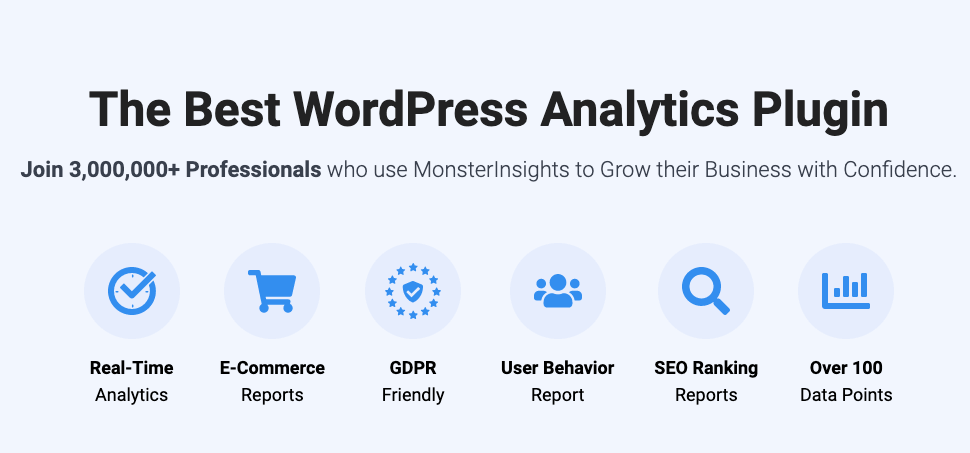 Time to dive into details. Let's get started.
What is MonsterInsights Plugin and How It Works
MonsterInsights is a popular Google Analytics plugin for WordPress that you can use to integrate Google Analytics with your WordPress site. Like Google Analytics, this plugin is also free to use. But if you need advanced features like enhanced eCommerce tracking, ads tracking, enhanced link attribution, and more; you have to purchase the Premium version.
Using MonsterInsights, you will be able to turn on/off various Google Analytics features and monitor your stats directly from your WordPress dashboard without opening the Google Analytics website or app. This will save you time and effort on a daily basis.
MonsterInsights Lite (aka Google Analytics Dashboard Plugin for WordPress by MonsterInsights) can be downloaded from the WordPress plugin repository or installed directly from your WordPress dashboard. At the time of writing this MonsterInsights review, this plugin has been installed and is active on more than 3+ million WordPress sites.
MonsterInsight Features Explained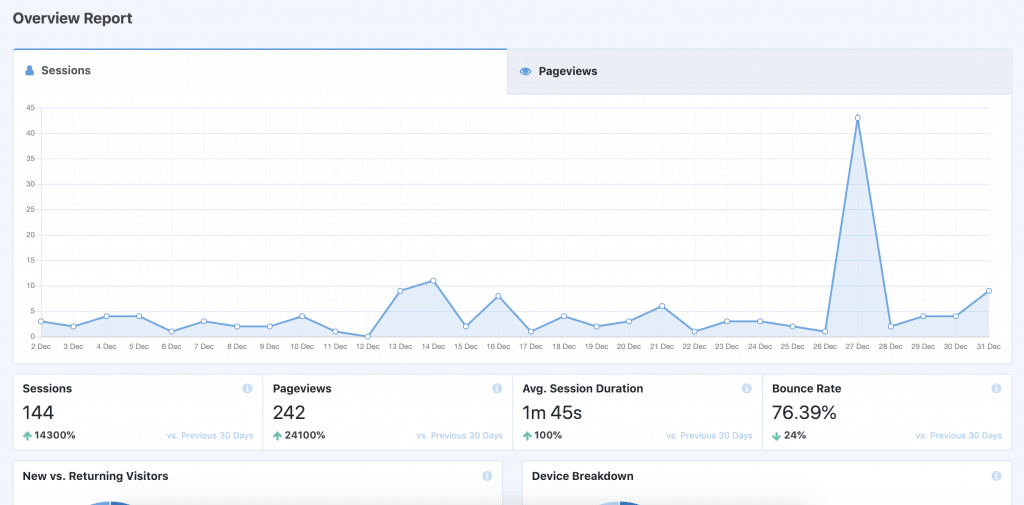 In this ultimate review, we will review the features of the free and pro versions of the MonsterInsights plugin.
MonsterInsights Free Version at a Glance
Fast and simple installation: Setting up Google Analytics on your WordPress site can be overwhelming and time-consuming, especially for beginners. This helps you to do this within less than five minutes.
Sessions Chart: See all the sessions that occurred on your site during the last month. Compare both the total and an average number of visitors with the data from the previous month.
Pageviews Chart: Inspect all the times your pages were viewed by a visitor. Compare both the total and average numbers with the data from the previous month.
New vs Old Visitors: Check which percentage of users were "new visitors" against old visitors.
Top 10 Countries: Segment your visitors based on the country from where they visited the website.
Device Breakdown: Segment your visitors based on the device from where they visited your site.
Referrals: Inspect which websites used visitors to access your site.
Top Posts/Pages: Find out which Posts and Pages are the most popular in your site. Discover how many times a certain page was visited in the last month.
MonsterInsights Pro Version at a Glance
In addition to the above free version features, the MonsterInsights Pro version offers the following features, but not limited to!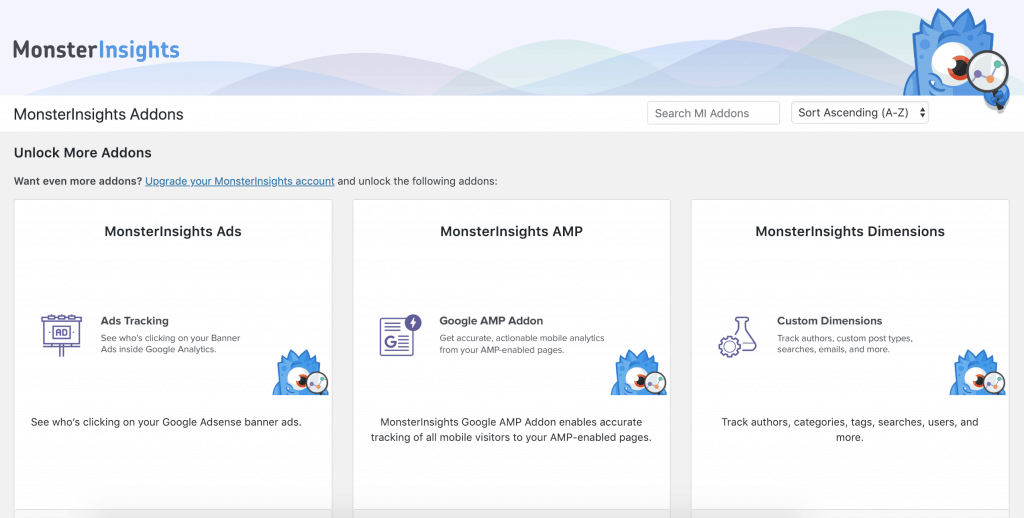 Publishers Report: Investigate the top landing pages, top exit pages, top outbound links, top affiliate links, the demographics of your users, and the top download links.
eCommerce Report: Here you will be able to see the conversion rate, transactions, revenue, average order value, top products, and top conversion sources.
Compatible with WooCommerce: MonsterInsights is fully compatible with WooCommerce. If you have an online store and want to have full data of each visit and product, MonsterInsights will let you track both your visitors and products.
Search Console Report: View the top Google Search Terms, clicks, impressions, the average position of each term, and click-through rate.
Dimensions Report: Choose only the data and time range that you want to track in your reports, so you can focus on the relevant information.
Forms Report: Find out how your forms are performing and which one gives you the most conversions.
EU Compliance Addon: One of the most important points from the Monsterinsights review for EU users. With this plugin, you can easily implement Google AMP Consent Box, Chrome browser opt-out extension, and other important plugins such as Cookie Notice and CookieBot.
Date Range History: Choose the date range that you want to see at every moment. You are not only limited in the last 30 days anymore.
Engagement Tracking: This feature allows you to track, or ignore users who are logged in.
File Downloads: Track your file downloads. Find out who is downloading your files and from which pages.
Enhanced Link Tracking: If you have more than one link pointing to the same page, this feature tells you which link is performing the best, so you can focus your efforts on that one.
Affiliate Links: Track every affiliate link that is being clicked by visitors, so you can optimize your campaigns.
Performance Addon: If you run a successful site you might end up reaching the Google Analytics processing limits. This plugin gives you the ability to make the sample rate and site speed sample rate adjustments.
Google AMP Addon: With this Plugin, you can properly track the AMP versions of your pages and correct misalignments.
FB Instant Articles: This feature follows a similar philosophy to the AMP pages, and like them, have analytics issues that make them display inaccurate data. This plugin corrects those problems so you can completely rely on that information.
Author Tracking: If you have various authors this feature will come in handy. You will obtain metrics about how well your contributors are performing like Who is the most popular? How many page views are getting?
Logged-in User Tracking: Find out how your logged-in users are behaving Which pages are they visiting? At what time? From which links?
Category/Tags and SEO Score Tracking: Using the "Custom Dimensions" Addon, you can discover which categories and tags are the most popular and have the most page views, so you create the most articles targetting those taxonomies. You can also track over time, the SEO Score of the different pages of your site.
Monster Insights Pros and Cons
Pros
Easy installation and setup: MonsterInsights is very easy to set up and you can enable all Google analytics features in minutes with just a few clicks.
Huge customization options: You can easily customize all tracking features to your needs: Different Metrics, Date ranges, and so on.
Simple UI: The simple user interface gives you all the reports you require, you do not have to leave your website admin dashboard. Everything is available there using the different tabs inside the Monsterinsights menu.
No third-party accounts are needed: Unlike other popular plugins where you need a WordPress.com account, MonsterInsights does not ask you to connect it to a different account other than Google.
Ability to import and export reports: You can store your website analytics data, easily by using the "export" buttons at your disposal.
Cons
Limited features in the Free version: The most negative point in this Monsterinsights review is that this plugin is restricted to the Pro version, which might be frustrating for someone using the Free version.
The Price Range: The premium version is quite expensive. The starting package they have to offer starts from $99 for one website!
MonsterInsights Pricing Information
Apart from MonsterInsights Lite which is completely free, MonsterInsights comes in three different pricing plans for premium users who need additional features. A 50% discount going on from MonsterInsights, you can claim it now!
| | | |
| --- | --- | --- |
| Agency | Pro | Plus |
| $399.50/year For marketing and web development agencies to speed up their flow. | $199.50/year For eCommerce sites and businesses who want huge results, fast! | $99.50/year For small businesses and publishers who want to do more. |
Google Analytics Plugin by MonsterInsights for Beginners and Professionals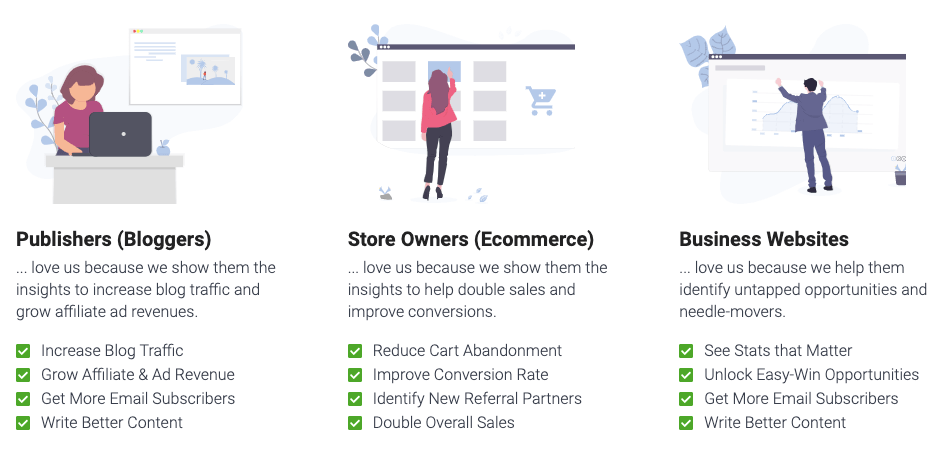 MonsterInsights allows you to set up analytics easily in just a few clicks, and simply see at a glance how your site is performing. From the WordPress dashboard, you can see how visitors find and use your website, so you can grow your viewers and keep them coming back.
It is the most powerful and user-friendly Google Analytics plugin in the market. This plugin is also very useful for content writers and bloggers.
Millions of small businesses and top companies like Microsoft, Bloomberg, FedEx, Yelp, Subway, etc. use MonsterInsights to set up Google Analytics on their WordPress sites.
Our Verdict on Monster Insights as Your Google Analytics Partner
When you are managing a personal blog, a business site, or an online eCommerce store, using Google Analytics to track your site's performance is essential. Instead of adding the analytics tracking script manually, it's better to use a dedicated WordPress Google Analytics plugin.
If you are a beginner, you might want to start out with the Free version. For more advanced features, you can upgrade to a premium plan when you need it.
We believe that Google Analytics Dashboard Plugin by MonsterInsights currently is one of the best Analytics plugins in the market. If you have enough budget, it's better to upgrade to the Pro version.
How to Add Google Analytics to WordPress with a Plugin
It's easy just like other WordPress plugin installations.
Just go to your WordPress site's dashboard.
Click on the plugin- Add new.
Type your favorite Google Analytics plugin name in the search box.
Now just install-activate and configure basic settings.
Yes, you're all done!
How to Add Google Analytics to WordPress without a Plugin
There are four ways to add Google Analytics to WordPress. These are-
Add Google Analytics to WordPress using a plugin
Connect Google Analytics and WordPress using specific Code
Integrate Google Analytics and WordPress using Google Tag Manager
And Sync Google Analytics Locally for Performance Reasons
But as a beginner and for easy report generation, we always encourage using a plugin that we already described earlier here.
MonsterInsights vs Jetpack Stats- Which One is Better?
First, let's learn a bit about MonsterInsights and Jetpack Stats.
You already know about Monster Insights. MonsterInsights makes Google Analytics' tricky setup process all too simple, even for absolute beginners. The setup process becomes a joyful experience, taking mere minutes out of your day rather than hours; and zero coding skills are required.
Jetpack Stats is a plugin developed and maintained by Automattic- the company behind WordPress itself. And when you activate Jetpack Stats on your WordPress site, you can use it to view reports on your website visitors and how they interact with your WordPress website with ease.
Now let's go for a short comparison table between MonsterInsights and Jetpack Stats.
| | | |
| --- | --- | --- |
| Features and Functions | Jetpack Stats | Monster Insights |
| Independent Plugin | Part of Jetpack plugin | Complete Plugin |
| Tracking Capability | Basic trackings like traffic, comments, and a few more on the pro version | All sorts of tracking you may need including free and pro version |
| Report Generation | limited types of Reports | A long list of reports types |
| User Interface | A bit of old-day style | User-friendly and easy going |
| Plugin weight | lightweight | A bit heavy |
| Free or Pro | Initially free, good for beginners | Okay for beginners, very good for advanced users |
So, Which Google Analytics Plugin for WordPress is the Best
If you're just getting started you can go for Jetpack plugin which offers primary tracking under the Jetpack Stats feature.
If you have an eCommerce site or running a site for a while with a smart number of traffic, Monster Insights could be your perfect fit.
Now it's your turn- which one to go for. If you think we missed something in this post or made a mistake in preparing our list; do share by commenting below.
We always eagerly wait to get feedback from our beloved readers like you.