Managing an online business is more different than managing an offline one. There are many Everests to climb and many oceans to sail across. That is where project management tools come to the rescue.
These days, competitors are moving ahead with terrifying speed. Part of the reason is that they are all using a project management tool to make their job done on time.
But What Exactly Does Project Manager Plugin Do?
Simply put, project management software helps to easily manage both of your projects and teams. Here are a few more things you can do with a project manager-
Prepare a list of well-defined goals to keep things tight and efficient.
Manage multiple projects simultaneously.
Oversee each of the projects and get detailed reports for better decisions.
Make good use of all your available resources and assets.
Efficiently distribute project responsibilities among the employees.
Provide your employees with individual dashboards for better control.
Get a communication plan suitable for your business model.
Well, you can still do all of the above by yourself. However, it would be very tiresome, time-consuming, and of course, inefficient.
In this post, we have carefully reviewed WP Project Manager Pro- one of the best project management solutions for WordPress out there with 10k+ active users.
Checking out The Best Project Management Solutions for WordPress
Here our trick is to look for WordPress Project Manager plugins that have been ranked high consistently over the years. How those project management solutions serve the world of WordPress-based businesses.
Some of the best project managers for WordPress would include-
WP Project Manager Pro
Panorama
Upstream
Kanban Boards, etc.
As you guessed by now, WP Project Manager Pro especially stood out to me for some distinct reasons. What are they? Well, that's what we'll be discussing today.
How WP Project Manager Pro Makes a Difference

These days, it takes a lot of effort for a plugin to get to the top of the WordPress industry. So, when you see WP Project Manager Pro in the top with 10k+ active users, you can imagine the quality it offers. Let's give you a taste.
Ideal for Startups- regarding both cost and functionalities
The world of commerce can appear quite challenging for starters. Most plugins and extensions are only available in paid versions, and so they try to ensure every penny spent is worth it.
Unfortunately, not all services are designed for startups.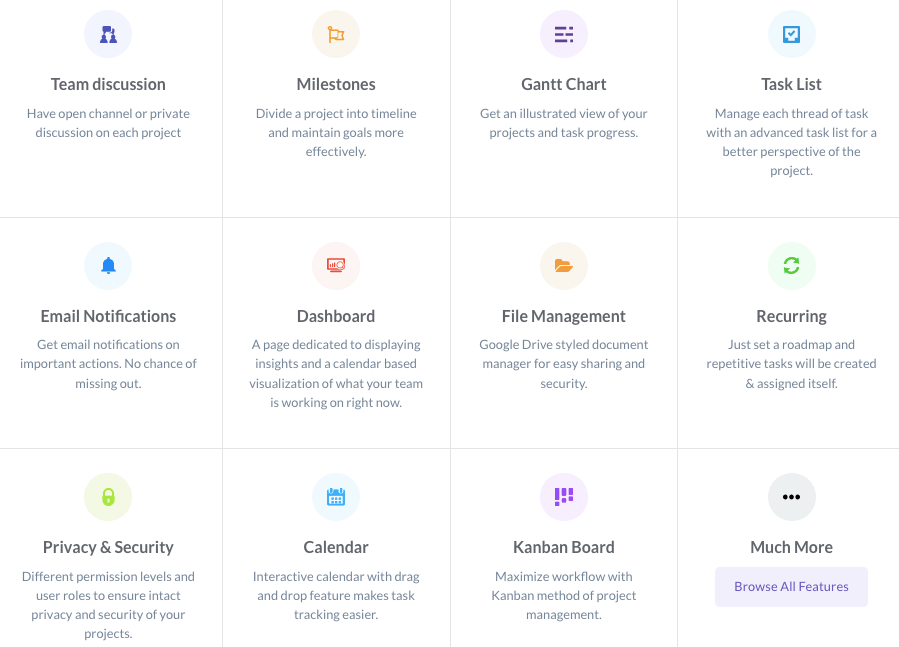 It doesn't make sense to subscribe to a $500 per year plugin when your business is still an infant. So what can you do?
You can get the WP Project Manager Pro. To begin with-
Affordable and user-friendly
Easy to set up
Super easy to get the hang of the dashboard
find the step-by-step guide on their documentation page
Add your existing projects, create new ones,
add users to a project, and so much more.
What's more interesting is that your users won't need a backend dashboard to view and manage the running projects.
Everybody can access the data directly from the front end.
Rich collection of Modules to ensure desired customization
You already got the WP Project Manager Pro, do you still need additional modules?
Yes, you do.
The best thing about this project manager plugin is that it comes with a rich collection of modules from the very start. Of course, you can get those modules depending on the type of package you purchase.
There are a total of 9 modules: Subtask, Time Tracker, Gantt Chart, Invoice, Kanban Board, BuddyPress Integration, WooCommerce Orders, Stripe, and Recurring Task.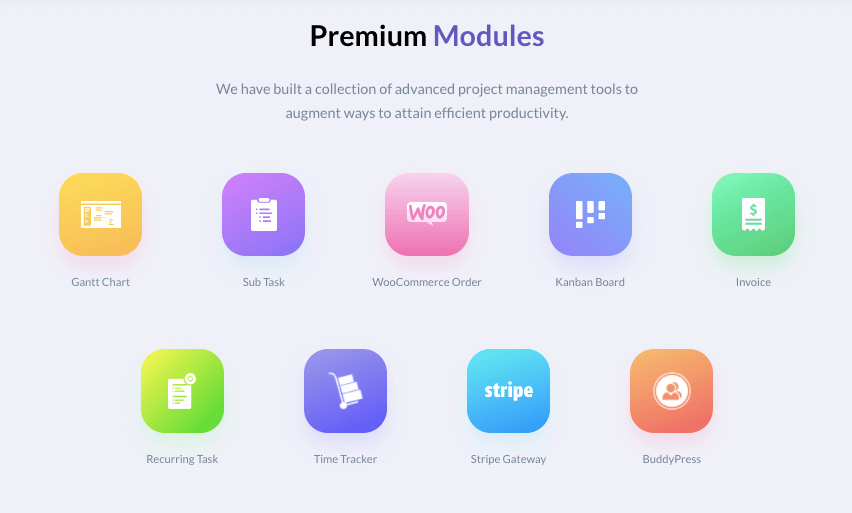 All of them are included in the Business package, the first 4 in the Professional one, and just Subtask in the Personal package.
The modules are designed to make WP Project Manager Pro functions more powerful and effective to manage your tasks, team and projects. On top of that, you can get a better grasp of your new business with ease. If needed, you can even add more modules later on!
Additionally, the codebase of WP Project Manager Pro 2.0 has been restructured and rewritten to make it work better and faster. Now, you get independent codes for the frontend and back end, making everything more efficient.
Opportunity to get essential insights with a few clicks
It doesn't matter if your business is a startup or a mature one; it's always important to get insights with zero time.
Why? Because they help you make better decisions and take effective actions.
With the help of the WP Project Manager Pro, you can get all kinds of reports and insights regarding your business. You can get reports on ongoing tasks, user activities, milestones, projects, etc.
What's more, you can even filter these reports based on projects, coworkers, time, users, and more.

Insight on user activity is probably the most important of all. It shows if all the efforts you're putting into your business are going in the right direction or not.
WP Project Manager Pro provides 6 types of reports based on User Activities
Overdue Tasks
Completed Task
User Activities
Task by Milestone
Unassigned Tasks
Summary
Always go through the reports in order to make future decisions and assess present ones.
Easy to manage time efficiently and meet deadlines
It's quite hard to keep track of everything. You can have multiple projects running simultaneously and then forget about one of them. It's nothing new for business owners.
But how to make sure that doesn't happen to you?
Well, that's why you have WP Project Manager Pro. Customers across the globe love this plugin for its highly satisfying time management features.
You can use this plugin to plan target-oriented goals and projects, calculate the time it'd take to fulfill those goals, track the projects in real time, ensure that the resources are being used in the best way possible, and so much more!
If you don't know this already, Time Tracker is the module that will help you do these things with WP Project Manager Pro. This is an open-source module, and you can use it however it suits you best.
Hassle-free collaboration with your team
Due to the growth of online connectivity, it has become easier to hire a team consisting of 50 members. However, managing them is not quite as easy. At times, you may even feel lost and want to give up pursuing your dream.
But don't fret, you've got WP Project Manager Pro. This may come as a surprise to you that WeDevs, the developers themselves, are using this plugin to up their team management game.
What does this mean? It means this project management tool is very effective at what it does. You can even handle a team of 100 effortlessly when you properly utilize WP Project Manager Pro.
You can manage complicated tasks by breaking them down into simpler subtasks. Then assign responsibilities among your team members. If needed, you can notify only a select few for a particular task.
It's important to maintain your privacy and its easy here
Many project manager tools fail when it comes to maintaining privacy.
As the leader, it's highly essential that you keep certain boundaries among the team members.
With WP Project Manager Pro, you can do this very easily. This plugin lets you customize specific roles for the users. You have complete control over which team members can manage and/or see which projects.
However, this team permission feature only comes with the pro versions.
Furthermore, WP Project Manager Pro is safe and doesn't collect data without your confirmation. It uses Appsero SDK, which collects telemetry data only after you grant it permission to do so.
Outstanding Customer support policy- it's 24/7
The customer support policy of WP Project Manager Pro is the same for all services provided by WeDevs. They help with installation, configuration, usage guidelines, and known bugs.
However, after-sales support isn't the best I've seen. You mostly have to rely on a ticket-based system, which can take some time. Nevertheless, what support they provide should be sufficient for most users.
That's because they already provide detailed documentation and proper guides to get everything ready.
Best Project Management Solutions for WordPress Compared
WP Project Manager Pro vs. other WordPress project management plugins
Is WP Project Manager Pro the only way to go? No, there are many other similar plugins that you can look into. For instance, Kanban, Upstream, and Panorama.
Simply by looking at the features WP Project Manager Pro provides, it should be pretty clear how well it stacks up against Kanban and Panorama. Let's see a comparison-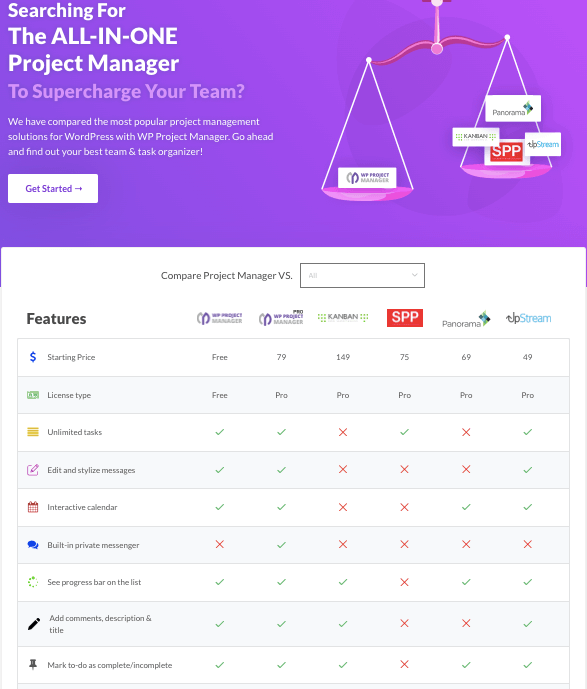 Of course, that's not the only way to decide if it's better than most other plugins. Customers have shown concern regarding the absence of a mobile app for this plugin.
Here it's important to note that the pro version of WP Project Manager Pro is more suitable for long-term and large-scale projects. For short-term projects with less involvement, the free version is more than enough.
Give a try to your WordPress Project Manager and win the battles
Project management or team management is always challenging. Now it's even more while you manage your team or task in a remote environment.
Thanks to the way WordPress project management plugins are designed and structured especially WP Project Manager Pro. With this industry leading project management solution, you can always find a way out of a dead end.
The point that we are trying to focus on- the options are not so huge here in the WordPress community. A few teams have worked on project management solutions. and most of them have focused on a particular part. And WP Project Manager Pro walked on a way to cover almost everything required by SMEs or startups.
Tools such as the WP Project Manager Pro can help you reach your goals. You just need to utilize it properly. You'll notice that a task that seemed very complex at first became super easy.
So, best of luck with your projects and businesses!