If you dream to quit your typical 9-to-5 jobs and setting up your own enterprise, The $100 Startup by Chris Guillebeau could be an inspiration. The book reveals the secrets of how to develop a successful enterprise of any size.
Writing a review on 'The $100 Startup by Chris Guillebeau stirs me to read the book once again. We hope it will be a new guide to your financial future.
We are going to cover a chapter-by-chapter review of the book in this article.
Let's have a look at the topics we're going to explore.
A Quick Overview of The $100 Startup By Chris Guillebeau
The $100 Startup Summary – What You Will Learn
A Bit About Chris Guillebeau- Author of The Book
The $100 Startup by Cris Guillebean Chapter-by-Chapter Review

Part One: Unexpected Entrepreneurs

Renaissance
Give Customers the Fish
Follow Your Passion…….Maybe
The Rise Of The Roaming Entrepreneur
The New Demographics

Taking it to The Streets: Part Two

Generate the First Sales as Soon as Possible
Make an Offer They Can't Refuse
Launch Your Products
The Art of Self-Promotion
Show me the Money

Leverage And Next Steps: Part Three

Moving on up
Franchise Yourself
Going Long
What If I Fall?
The $100 Startup Summary- What You Will Learn
The $100 Startup invites the readers to think big. It compiles the experience of Chris Guillebeau.
Chris met 1,500 successful small business owners from 174 countries by his early 30s. Interestingly, all of them started their entrepreneurial journey with just $100 or less.
But today, most of them are making $50,000 or more. Chris found a common thing among these successful people- they were thoroughly passionate about their fields.
Surprisingly, most of them didn't have all the essential entrepreneurial skills at the beginning. But over time, they developed themselves.
A Bit About Chris Guillebeau- Author of The Book
Chris Guillebeau is an American author, blogger, speaker, and entrepreneur. Against all conventional beliefs, he loves to promote three things: life, work, and travel.
Chris first came to the spotlight in 2010 with his first book The Art of Non-Conformity. Today, he is a modern-day explorer and New York Times best-selling author.
By the age of 35, Chris completed touring almost every country (193) in the world. Side Hustle School is his daily podcast which is downloaded more than two million times per month.
The $100 Startup by Cris Guillebean Chapter by Chapter Review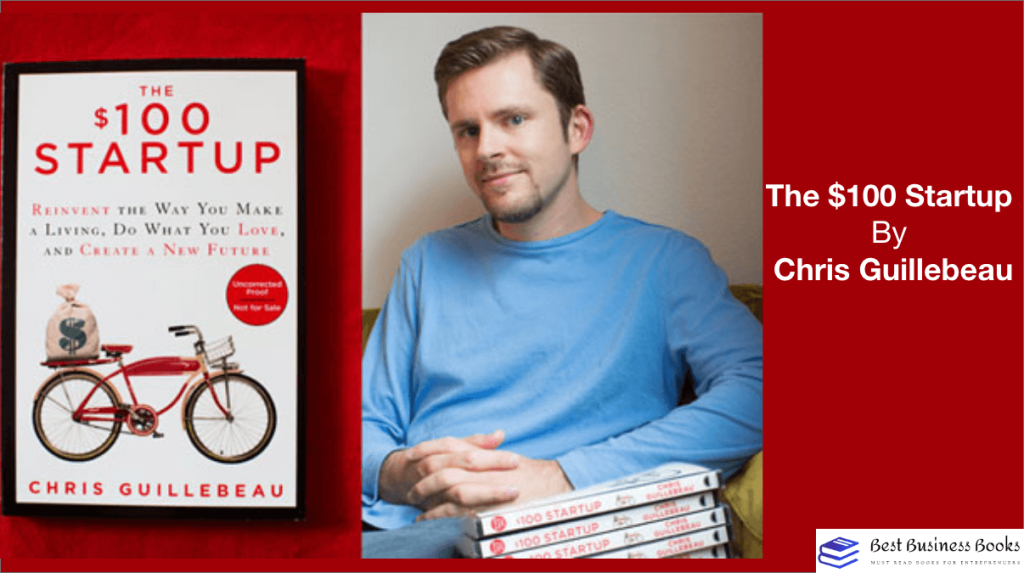 Chris completes the book in 3 parts and 14 chapters. Here, we will cover the salient points of this inspirational book.
Part One: Unexpected Entrepreneurs
Unexpected entrepreneurs are ordinary people. They don't have special entrepreneurial skills but know how to use their passions to make a living. There are five chapters in part one.
Chris covered the following highlighting points in this section.
Renaissance
People usually rely on their passions to reign in their dream fields. But to be a successful businessman, your passion must align with the market demand. Otherwise, nobody will pay for your products and services.
Give Customers the Fish
Just focus on helping your target audiences. If you can reach out to your audiences better than others, you have a potential business under your nose!
So, instead of profiting, set your business aims to help the target audiences. Sooner customers will be attracted to your services. And it will open up many adjacent fields related to your passion.
Follow Your Passion…
Secrets to financial success define the fields where your skills, passions, and market demands merge together. If you can identify these sweet spots, you will reach better passion to outperform the competitors.
Chris provides a magic formula, Passion/Skills + Usefulness = Success.
The Rise Of The Roaming Entrepreneur
You don't have to wait for a suitable place to start your business. Throughout 174 countries, Chris met many entrepreneurs who were extremely successful with eCommerce.
Today, you just need a simple-good idea to start up a good business. Next, you need a mobile or computer device to manage your online stores. Thus, you can make your products 24/7 available for your customers.
The New Demographics
People usually love to segment the market by demographic parameters. But Chris believes this generic analysis doesn't hold much value. He advises us to avoid age, gender, and income level to identify our target markets.
Rather, studying the shared values, skills, and passions of our target audiences can generate more positive results. Moreover, we can run formal and informal surveys to get a clear picture of our target markets.
Part Two: Taking it to The Streets
Crafting a meticulous campaign before launching new products can gear up the success rate of your business. Because it arouses interest among the target audiences. Once their interest grows, you have to sustain it.
There are six chapters in this part. We are going to present all the focal points Chris outlined in this section.
Generate the First Sales as Soon as Possible
First sales work is a powerful motivation. You cannot compare its value to the dollar.
Studies reveal- most people end up losing their confidence within the first two/three months of their startup if they fail to make any sale.
Chris provides this one-page business plan checklist to help you generate your first sale as soon as possible.
Make an Offer They Can't Refuse
Connect your product/service values directly to the benefits that your customers are looking for. It will make your offers irresistible.
Besides, you must be careful in analyzing your audience's feedback. Because all their complaints may not be realistic. Chris gave an example.
For years, an airline received too many complaints about its short seating space. So, they increased the legroom space for a slightly higher price. However, they found that those customers prefer to fly at cheap rates.
Launch Your Products
Chris compared a good product launch to a Hollywood movie release. Because you must engage your audience before launching the product.
You ought to create a big picture, wonderful stories, and promote values to psychologically influence your audiences.
Here is a 39 step product launch checklist Chris developed to help you create your product launch campaign.
The Art of Self-Promotion
You must spend 50% time on work and 50% on network build-up. Because small enterprises cannot manage a big sum of money for marketing. Therefore, you must focus on organic promotions.
Here is a one-page promotional plan Chris offers to help you develop your marketing plan. Also, you must use the tactics: strategic giving and word-of-mouth marketing.
Show me the Money
Don't forget your goal is to make money. So, better to avoid all sorts of debts at the beginning. Otherwise, it will impact your income and take out your freedom.
Chris provides an example of Chelly Vitry. She started her food business in Denver with just a $28 startup cost. But now she is making $60,000 per year.
Part Three: Leverage And Next Steps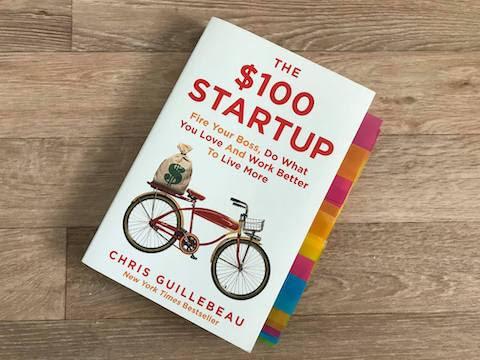 Chris says whatever ambition you have is completely acceptable. There are multiple ways you can scale up your business. Whenever you get closer to an opportunity, you must grab it.
There are four chapters in part three. Let's explore what key points Chris covered here.
Moving on up
Once you set up your business successfully, small actions can make a big impact on your income level. So, you can think of cross-selling and up-selling strategies to increase your conversion rate.
Besides, there are some proven strategies by which you can engage new audiences to your business. For example new contests, referrals, free shipping, guarantees, free return, and so on.
Franchise Yourself
Expending your business to multiple places can improve both your brand value and market share. Franchising is the most popular way by which you expand your business.
Again, partnership and acquisition are the two popular means of franchising. However, you may require to change your approaches, if the new audiences have a different cultural background.
Going Long
Each product has a certain lifespan. So, you must achieve your milestone within the time frame. Sometimes, you have to jump or try a few things around to achieve those milestones.
Chris recommends we follow one or two KPI metrics to cross-check our achievements. KPI metrics could be sales conversion rate, sales per day, traffic rate, average order value, and so on.
What If I Fall?
Chris identifies the biggest battle is with your mind. As long as you are struggling with inertia nobody can convince you to start up your enterprise.
Advises can be helpful. But don't wait for someone's permission to chase your dreams.
Whenever you find a winning moment, hold on to it and try to reap the best.
FAQs answered on The $100 Startup
What is the $100 Startup?
The $100 Startup is a book written by Chris Guillebeau that showcases 50 case studies of people who have started successful businesses with little to no money.
What are the key takeaways from the book?
Some of the key takeaways from the book include the importance of having a clear goal, being resourceful, and building a strong network of support
Who is the book aimed at?
The book is aimed at anyone who is interested in starting their own business, regardless of their level of experience or financial resources.
What kind of businesses are featured in the book?
The businesses featured in the book vary widely in terms of industry and size, but they all share one common trait – they were all started on a shoestring budget.
How can I apply the lessons from the book to my own business?
Each of the case studies in the book provides a unique set of lessons that can be applied to any business, regardless of its size or industry.
Ending Note on The $100 Startup: Our Rating for The Book is 8/10
The best thing about 'The $100 Startup by Chris Guillebeau' is that it's full of real-life case studies and examples. I love the way Chris made his discussion too easy to understand.
We often listen to the proverb fortune favors the brave. It means success and glory always go with those who dare to take risks. The $100 Startup by Chris Guillebeau prioritizes this philosophy in all its discussions.
It is an inspirational blueprint for millions of people dreaming of being entrepreneurs someday.